Activities will run from the evening of March 30th through the evening on April 5th . All attendees should plan to arrive in Marrakech (RAK) on March 30th and depart on April 6th from Casablanca (CMN) .
(Note: Itinerary is subject adjustments)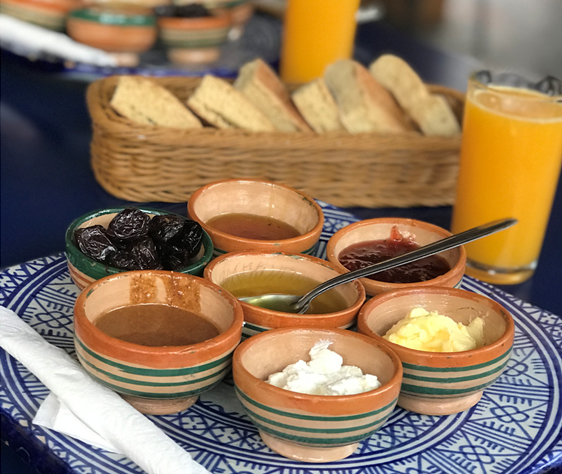 Breakfast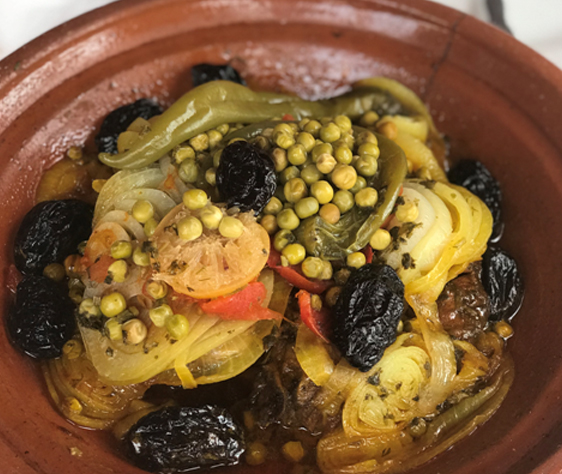 Lunch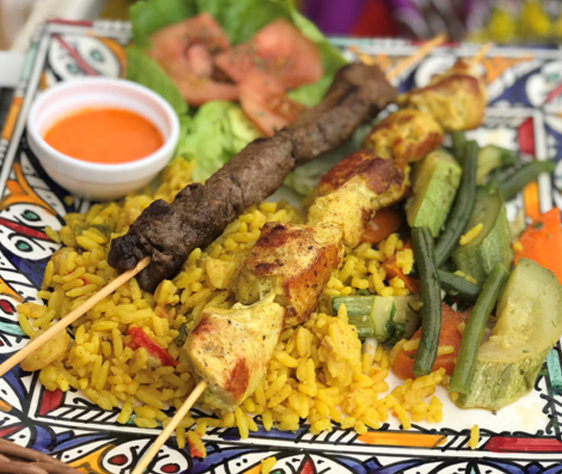 Dinner
Breakfast in Morocco is a delightful combination of freshly baked breads, homemade jams, eggs, olives, fresh juices, mint tea, and a variety of other delicacies.
Lunch and dinner in Morocco consists of flavorful combinations of rice and couscous, long stewed chicken, lamb, or beef, grilled kabobs, seasonal vegetables, and typically the ripest watermelon you've ever tasted for dessert.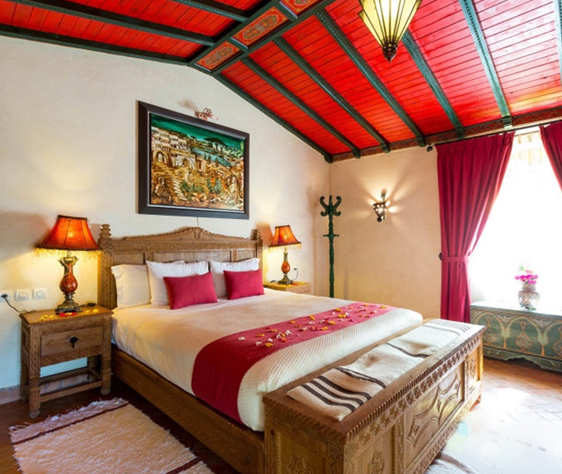 Riad in Fes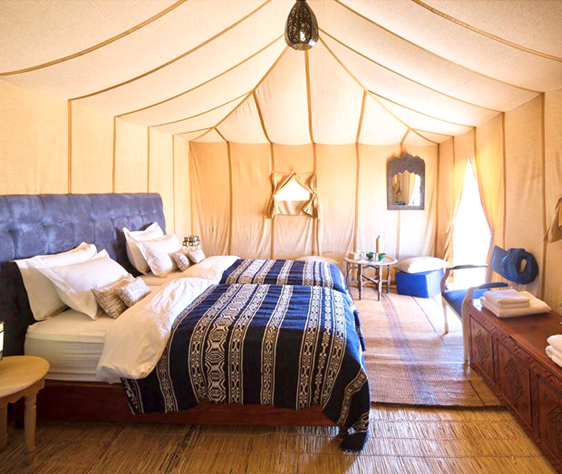 Luxury Tent in Sahara Desert
You will stay in a combination of hotels, riads, and luxury tents. Each has their own charm and noteworthy features such as spectacular views, gorgeous gardens, and decadent decor. All are the equivalent of 4 star or better and reflect the rich and unique culture and hospitality of Morocco.
What you'll see and experience
Day 1: March 30th Marrakech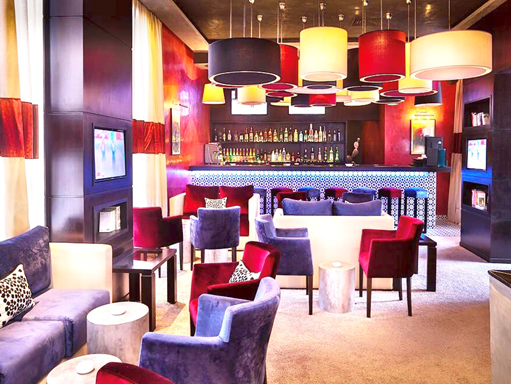 CHECK INTO YOUR ACCOMMODATIONS AND PREPARE FOR An Awesome Moroccan DINING EXPERIENCE in the evening.
Feel free to settle into your accommodation any time after 2pm local time on March 30th.
Day 2: March 31th Marrakech

Allow Marrakech to give you a grand introduction to the Lifestyle and excitement of Morocco
Highlights:
Visit the famous Saadian tombs and admire the colorful tiles, Arabic script, and intricate carvings of this unique Islamic mausoleum.
Check out Bahia Palace which literally means "Palace of Wonder". Here you'll explore the finest example of Islamic world architecture with magnificent stucco works, Islamic mosaics and carved cedar wood roofs, surrounded by Moorish gardens of orange and cypress trees and scented jasmine plants.
Get a feel for the Moroccan lifestyle at Jemaa El Fna Square, where fruit juice sellers, snake charmers, dancing monkeys, magicians, acrobats much more come together to create a magnificent show.
Day 3: April 1st Dades Gorges

Gear up for a road trip that will open your eyes to the true wonders and diversity of Morocco
Highlights:
See step by step how argan oil is made at the Women's Argan Oil cooperative in Tizi n Tichka mountain.
Visit Ait Ben Haddou, a striking example of traditional southern Moroccan architecture and UNESCO World Heritage site.
Tour Ouarzazate cinema museum, which houses many props from movies like Gladiator, The Mummy, and even Game of Throwns.
End your evening in Dades Gorge.
Day 4: April 2nd Erg Chebbi (Sahara Desert)
Embarq on a journey towards a magical evening in the desert, where you'll dine like kings and queens, dance like gypsies to the beat of Moroccan drums, and truly take in the magic of the Sahara
Highlights:
Stop to observe Tingher, a real life desert oasis, and marvel at the greenery that blooms in the midst of a mostly desert landscape.
Marvel at the power of nature with a tour of Todra Gorge, one of the most impressive canyons in Northern Africa.
Enjoy a desert sunset as you ride your camel to your luxury campsite. (transport by four wheel drive also available)
Day 5: April 3rd En route to Fes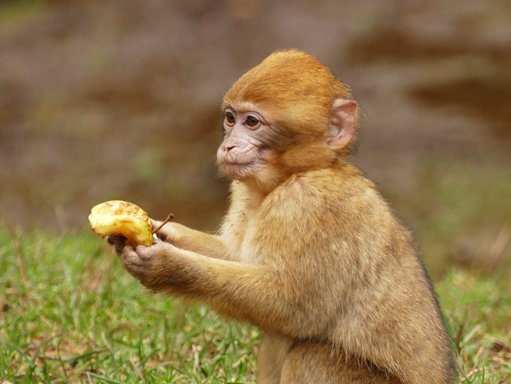 Continue your road trip towards Fes, with several captivating stops along the way
Highlights:
Observe the curiosity and human like behavior displayed by the monkeys of the Atlas Mountains Cedar forest.
Get a small taste of Europe with a coffee and photo stop in Ifran, which is affectionately known as Morocco's Switzerland.
Arrive in Fes by evening for a delightful dinner.
Day 6: April 4th Fes

Explore Fez, the oldest of Morocco's imperial cities and also One of the best maintained Medieval cities in existence today
Highlights:
Take a guided walk through the Fez medina, a UNESCO world heritage site and also one of the largest car-free zones.
Marvel at Kingdom Palace, the 17th century palace in Fez el Jdid and home to Mohammed VI of Morocco when he's in the town.
Check out Madrasa Bou Inania, with its decorative carvings and tile work. This is one of the few religious buildings in Morocco that may be entered by non-muslims.
Arrive in Chefchaouen by evening in time for dinner.
Day 7: April 5th Chefchaouen and Casablanca

Walk your way through Morocco's Blue pearl, Chefchaouen and grab each and every 'instagrammable' moment you've been waiting for
First half of day highlights:
Enjoy small group guided tours of Morocco's blue city.
Discover panoramic views of the town from just outside of the city.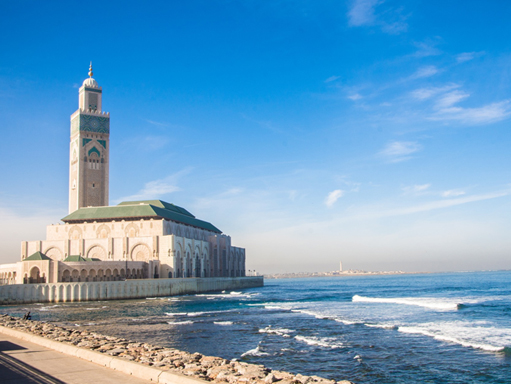 Second half of day highlights:
Discover Hasaan II Mosque, Casablanca's one true landmark, and understand why how it came to be the 7th largest mosque in the world.
Arrive in Casablanca by evening just in time for dinner and a taste of Moroccan night life.
Day 8: April 6th Depart from Casablanca