And a group of strangers became one family!
It was six months ago when the idea came about as Kelley asked me what was my thoughts about a trip to Bali.
Well, I'd never been to Asia and it was quite a feat. Not to mention I was hesitate about group trips. See, for a solo traveler like myself group trips never quite work for me. It's always that factor where you feel like you have to cater to everyone. No one is ever satisfied. There's different personalities, there's that one person that you always have to baby, the complainer, and a slew of other "people types." However, with so much skepticism I said to myself "what the heck, let's do this." It was the best decision I could have made.
I'd first like to mention how amazing it is to meet others like myself. People who crave travel and adventure yet also maintain home lives, careers, businesses, and all else that "normal" folks do. I say that in the upmost respectful way not to be offensive. I felt like I was saying "me too" a lot! Typically as a traveler I always get questions like; "How can you afford to travel so much?" "Where do you work?" To be frank it's draining to keep answering the same questions, I just manage differently. For once though I was understood and the same travel hacks I achieve many others do as well! Travel is obtainable for all!
Literally I made a connection with each person I met and somehow they embedded themselves into the strands of my heartstrings! My villamates felt more like sisters! Joy and I had already followed each other on social media prior to the trip and I felt like I knew her before we actually met face to face! The months leading up to the trip I watched her travels via IG, followed her sister (shout out En Bloom @Terridiaries), and I even had a few conversations with her from time to time online.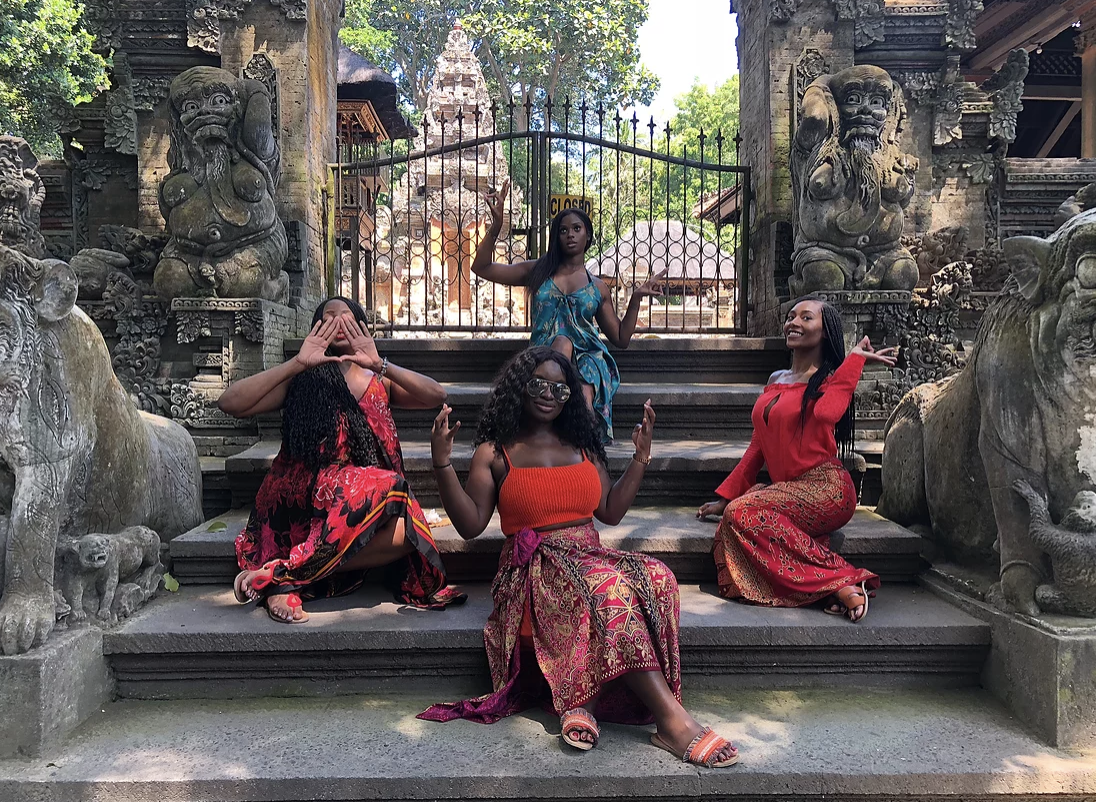 Then there was Dawnnnnn from Brooklyn. Even though the circumstances as to how we met was such an inconvenience it would be the seed planted that would grow a budding friendship (she's like my New York mama now)! I knew from the moment I met her she'd be super cool, laid back, and funny without even knowing. She's super wise too! Black girl magic!
There was Joe, Dawn's imaginary friend that she came on the trip with. But hey turns out he's real and top five funniest folks on the trip! He's from New York too and made it to Bali by way of Timberland Airlines! (That was my trip Pops! He helped me haggle the day we shopped in the city.)
Of course Kelley, a friend from home who actually suggested the trip! To always hear her say how my trips inspired her and finally seeing her do it for herself made me super proud. She was in Bali living her best life and her travelers heart had already started craving more. She was already having thoughts of where to next. I mean we struggled the first leg of our trip (that layover), but it's experiences such as that which really make for great stories as you grow in your travels.  How could I not mention that one night of heated debates and Kelley's now infamous "pastor" hand and head bow. "Why y'all keep shushing me?"
"…experiences such as that make for great stories…"
Across from our villa was Janelle and Tracy.  Kelley and I first came in contact with Janelle at the airport and it's funny how we started the trip together and ended it together as well.  Janelle is such a kindred spirit and her energy is so relaxing.  She's flawless so effortlessly!  I remember she was bummed she missed the Elephant tour and I was happy God answered my prayers allowing her to go the next day.  Tracy literally is goals! She's in her thirties and slaying harder than most twenty somethings I know! I mean beauty, brains, and melanin; that's her!  Now next door to us was one of the littest clubs ever (I kid a villa)! Rudy's! Party at Rudy's Party at Rudy's! I actually never went to the parties but from the stories and the broken tree branch I watched housekeeping bring out the villa I knew it was the place to be! I went to Sharon's once though! She stayed across from Rudy's! Did I mention she's from Maryland! She is stunning and I didn't tell her but I truly admired her; beautiful , and slaying the trip as well. Mic was literally like the dad of the trip! He held it down from the group chat to actually serving as a leader for bus six. How could I not mention my turn up girls from LA! Chyna and Asia! I loved them, like Joy I followed Chyna online and I loved her spirit we had our own inside jokes going on! (That one night on bus five! Bus five or die!) I'm gonna take a weekend to visit them in Cali! Their energy can't be matched!  Asia reminds me of myself in my early twenties with so much ambition I'd love to see how she continues to grow and conquer her dreams. 
Last but not least my honorary bus leaders Dre and Yishak! (Shout out @urbntrvl) See I originally was a member of bus six but it was just happenstance I made it onto bus five and there was no turning back! They were so hospitable! Hoe-sting! I kid I kid! But I might not have made any event if they didn't walk through the villas each morning with their infectious smiles and reminding us we were on a time frame. Whenever I had a question I'd say, "Yi!" He always knew the answers and if he didn't trust he would find out! The two added to the experience and were like personal welcoming helpers. Dre helped me remix Bali's newest pop hit "Party at Rudy's." It's the popchart hottest song! Let me mention there were about 120 people on this trip but these were the strongest connections I made! I spoke with everyone though!
As for Bali itself! Breathtaking! Remarkable! Green! So many great adjectives could express how amazing this place was. So often I saw rice field photo ops, photos at temples, the infamous swings, and so many other great scenes! I was finally here able to reenact it myself! I never felt so welcomed by a group of people! 
I noticed I myself along with my BTF mates were a hot commodity. It's not often Asians see such melanin and they were intrigued. I found myself being stared at on a few occasions but out of pure interest. People were asking to take my picture and to take pictures with me. They complimented my beauty and was so in awe I was honored! It always feels good to travel the globe and represent!  I always happily obliged.
The trip was an adventure! From flying Emirates (only the best airlines ever!), to the layovers in Dubai, I had an unforgettable experience. All praise to Deirdre (@deirdredares) and her team who made it all possible. From start to finish everything was great and I was like, "how the hell she gonna outdo this," but she amazed me each time. She's really the Bali plug y'all! She delivered all she said she would plus some! I know she felt great to see her vision come to life.
"…experiences such as that make for great stories…"
Visions are like babies and when you nurture them and see how they've grown you're always super proud. I'm looking forward to BTF 2019! I'll be planning a 6 month reunion for my gang 🤟🏾! Until next time! Remember, life is a journey, one that can be gone in a blink of an eye. So live in the moment, make memories, and spread love!  As T.S. said, "The journey, not the arrival matters!"