 December 28, 2019 – January 4, 2020
Join other passionate black travelers for this 7 day, 7 night exploration of the best of Egypt. This is the New Year Edition!
Join Black Travel Fest in Egypt for New Years Eve!
You're invited to take a life changing journey across Egypt for the ultimate bucket list experience. From December 28th through January 4th, 2019 we will take in all of the ancient wonders of that Kemet has to offer. We'll marvel at the majesty of the Great Pyramids, get up close and personal with the original Nubians, tour the palatial temples of Luxor, and finally turn up for the New Year in a bit of Egyptian luxury with sun, beach, and fun in the Red Sea city of Hurghada. All of this while developing deep and lasting connections with likeminded melinated travelers. You couldn't bring in 2020 any better than this.
This 7 day, 7 night itinerary is sure to delight!

By Day
 Feel free to settle into your accommodation any time after 2pm local time.

By Night
Soak in the fact that you have indeed arrived with a one of a kind five star dinner cruise with delicious foods and entertainment on the famed Nile River.

By Day
Visit the Great Pyramids of Giza along with the famed Sphinx for an up close encounter with ancient history. Later in the day tour the Museum of Egyptian Antiquities to deepen your knowledge on the rich history of Ancient Kemet. 

By Night
Take it easy with a group dinner and some laid back in hotel activities.

By Day
We'll head to Hurghada, to turn up and experience a bit of beach life in the Red Sea's most eventful city. You'll be able to take the day at your leisure once you check into your five star all inclusive digs.

By Night
Head out for a night on the town or stick around the hotel to enjoy the resort entertainment.

By Day
Savor the typically crystal blue waters of the Red Sea while cruising to Giftun Island on a chartered yacht. You'll have the opportunity, to snorkel, dive, and chill on the pristine beaches.

By Night
Prepare for an all the way live Black Travel Fest style NYE turn up at one of Egypt's most popular nightclubs. We'll enjoy dinner, and proceed to bring in 2020 the right way.

By Day
Marvel at the massive iconic monuments of Luxor and Karnak Temples to get a sight of the architectural genius of the Ancient Egyptians and see three of the five remaining obelisks still in Egypt.

By Night
Enjoy an evening in a traditional café where you'll have the opportunity to hookah, drink tea, and have dinner.

By Day
In the morning visit the Temple of Hatshepsut, a monument erected in honor of the Queen Hatshepsut the longest reigning female pharaoh in Ancient Egypt. Then walk through the Valley of the Kings where you'll see a variety of tombs for the pharaohs of Ancient Egypt.

By Night
Enjoy an evening in a traditional café where you'll have the opportunity to hookah, drink tea, and have dinner.

By Day
Tour around Philae Temple, a temple believed to be the last active site of the Ancient Egyptian religion. Then ride a Felucca on the Nile to arrive at an authentic Nubian village where you'll meet and dine with the original kings and queens of Egypt.

By Night
You'll enjoy a special farewell dinner bringing your adventure to a close.

By Day
 Flight from Aswan to Cairo; depart from Egypt
Excited for your next journey?
Note: Anything not listed above as included is excluded.
Venture to the Great Pyramids of Giza and the famed Sphinx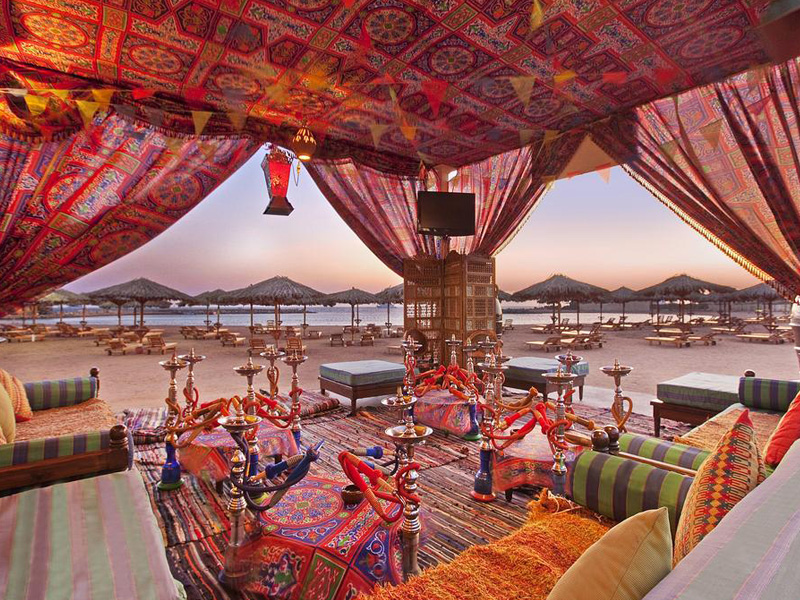 Hurghada Red Sea Resort
This experience is
for you if you:
Want to see and experience it all
Enjoy eating local cuisine
We'd absolutely love to have you! But, if your ideal vacation involves relaxing on the beach daily and sleeping in this experience is not for you. Although, we do incorporate individual exploration and relaxation time into our itineraries we do more than the average group.
Excited for your
next journey?
Getting There
No. Flights are not included in the price, but you can check Secretflying.com, Priceline.com, and Kayak.com (amongst others) to find the best flight prices on the market.

You'll need a round trip ticket into Cairo International Airport (CAI) arriving on December 28th before 5pm and depart on January 4th after 3pm.

Housing accommodations will begin at 2pm on 12/28/19. Travelers should plan to arrive by 5pm if they intend to attend the welcome cruise in the evening.

Activities will conclude in the evening of 1/3/20, and all accommodations must be checked out of by 12pm on 1/4/20.

Airport transfer is included in your trip package. Simply submit your flight itinerary at before by August 15th, 2019. In order to be eligible for airport transfer, all travelers must enter their itineraries by this date.

Note, only flights arriving into CAI on 12/28/2019 and out of CAI on 1/4/2020 will be granted an airport transfer.

Sure, you can reach out to Cici Chandler a travel agent at Mahogany Fly, Int'l. You can contact her at Cici@mahoganyfly.com , and she'll be happy to assist with your flight booking. There's a fee of $30 for her services.

While there is not a specific airline that we recommend, we do propose checking itineraries that fly through NYC as these seem to be the cheapest and most direct. Flights from NYC can arrive in Egypt in as few as 10 hours.
Preparing Before You Arrive
Activities, transportation, and housing are included in the package prices. Alcoholic beverages are mostly not included in the package price. For reference alcoholic cocktails average between $7 and $12. Meals that are not included in the package will typically cost between $12-15.

You'll receive a detailed seasonal packing list in time to grab everything you need for the trip.

An alcohol package will not be offered; however, it is recommended that participants plan to purchase a bottle or two at the airport duty free. You may want to have something to sip on in the desert.

We recommend that you purchase travel insurance after booking your reservation. If you have questions regarding trip insurance coverage, you may contact Cici Chandler, travel agent with Mahogany Fly International (cici@mahoganyfly.com). If you're living outside of the United States, contact your local travel agent to purchase travel insurance for the festival.
Housing
Upgrade requests may be made by emailing info@blacktravelfest.com. Upgrades will be accommodated on a per reservation basis, and you will need your roommate to also agree to upgrade or accept entry into the roomie matching program.

Downgrades are prohibited. No Downgrade request will be taken.

Rooms with double occupancy may have a shared king or queen bed, though this won't be frequent.
Pricing, Payment and Booking
Overnight accommodations
Entrance to all activities
Meals: Breakfast and some dinners/lunches
Airport pick-up and drop-off
Transportation
Local Hosts & English Speaking Guides

Payments are processed through PayPal. As such all major credit cards are accepted (i.e., Visa, Mastercard, AmericanExpress, Discover)

Once you've made a payment you'll be redirected to an online registration form. Following completion of the form, you'll receive an email confirmation of your registration. You'll also receive a detailed information pack prior to the start of your trip.

All payments must be completed by November 15th, 2019. 

If you do not make your payment deadline you will have 3 additional days to pay in full, and a late payment fee of $75 be will assessed.

You will have two options if you've booked double occupancy and your roommate fails to complete payment.

1. You can upgrade to the next package within your selected accommodation style. For example if you have selected a hotel double occupancy package, you can upgrade to the single occupancy package for $500. The same applies for the villa packages.

2. You can find a replacement roommate and set up the replacement arrangements with your current roommate. If this happens your replacement will need to pay your former roommate directly for any portion already paid to Black Travel Fest, and pay the remaining balance directly to Black Travel Fest.

You can pay for the entire balance of your trip by selecting the "Pay Now" option.
Cancellation and Transferability
All payments are non-refundable, but may be transferred to another traveler for a fee of $75. Cancel for any reason trip insurance can help if you have a need to cancel unexpectedly.

If you have questions regarding trip insurance coverage, please contact Cici Chandler, travel agent with Mahogany Fly International (cici@mahoganyfly.com). If you live outside of the United States, please contact your local travel agent to purchase travel insurance for the festival.

Name changes are permitted for $75 per person. Name Changes are not permitted for Roomie Matching Program. Name changes can only be made with people not currently booked for the festival.
The person taking your place needs to register with a staff member at Amola Enterprises, LLC and provide their credit card information. You must work out the money already paid between yourselves. The person taking your place pays the remaining balance to Amola Enterprises, LLC.

Name changes can be completed up to 4 weeks prior to the trip (November 28th, 2019), and will require the replacement to pay for any replacement domestic flights previously purchased. No name changes will be made after the deadline.

Please see the Terms and Conditions for additional information regarding name changes and transferability.
Other
All are welcome at the Black Travel Fest. Just be sure to come prepared to have a good time and do it for the culture.

Sure. You are welcome to arrive before the festival and stay after if you like. Just note that the package only covers 12/28/2019 through 1/4/2020, and airport transfers outside of these dates will not be offered.

If you're unable to attend all the scheduled days it will be difficult to join us as there are several location changes.

We have several Egypt trips planned for 2020, just look out for our 2020 calendar.